2022
In this year Maitri Griha could finally come back to normal life after Corona. The old children came more frequently and new children joined in. For the teachers we could organise some teach training with teachers from the SP Center. In December we arranged one dental cehck up for the kids. Hope that 2023 we can keep up the work without problems.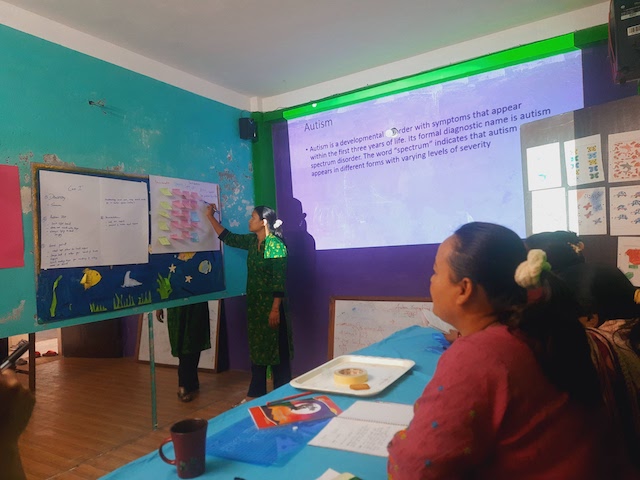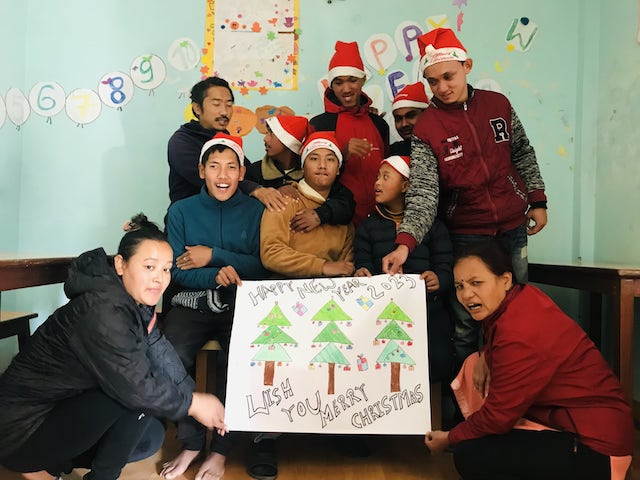 2021
After the first wave of Corona we were happy to reopen Maitri Griha in February 2021 to give our children a safe place to learn and play. We were able to celebrate a wonderful Holi together but just as life started to get back to normal the second wave hit Nepal in May 2021 even harder than the first. Many people lost their lives and the country was stuck in a lockdown where they weren't even allowed to leave their houses. As a result we at Maitri Griha couldn`t run our project and bring the children to our premises. We brought them learning materials to their homes and we tried to support their parents to participate. We distributed food packages to needy families and also delivered essential medical supplies to remote areas of Nepal.
Finally after the second wave had receded we could open Maitri Griha on the 20th of September. But due to this long closure we had to face the fact that two children had left our day-care center and two further children are still with their families in their village. (Due to Covid 19 a lot of people returned to their families in their villages).
In spite of the lower number of children we gave classes to the remaining eight, who were happy to see their friends again and to have a structured daily routine with learning, singing, dancing and playing together.
Our greatest wish for all mankind is that we can return to a more regular and normal life in 2022 and to give Maitri Griha and the children the possibility to develop.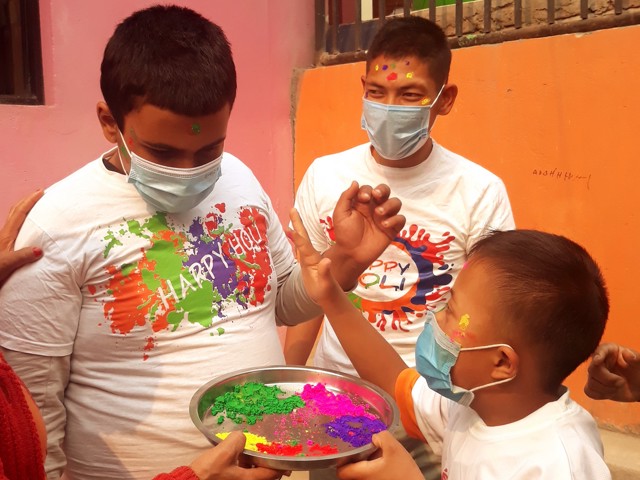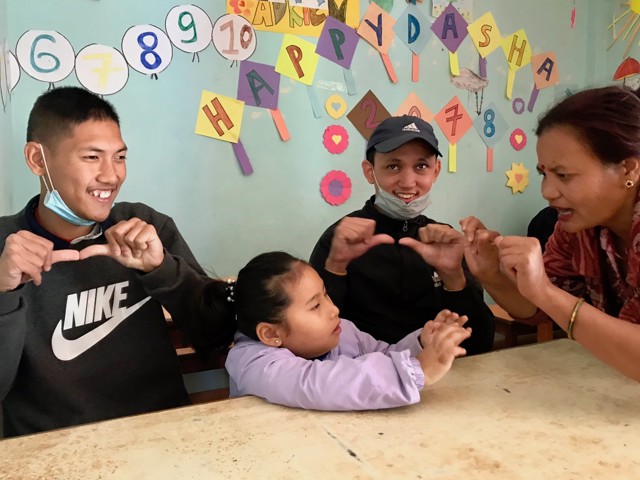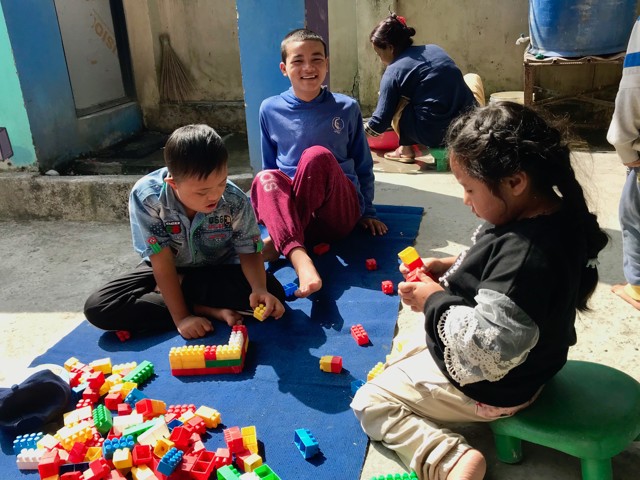 2020
We started the construction of the top floor of Maitri-Griha in Februar 2020. Amending to the government rules, 2020 was the final year to complete the construction without having to pay additional money. Our aim was to get bigger space for the children to play and in addition to build a room for physical therapy. Unfortunately due to to the Coronavirus Pandemic, life came to a shutdown in Nepal in March 2020. The construction work could not be completed. The Pandemic has affected Maitri-Griha. Since March we had to close our day-care centre. Maitri-Griha is a paradise for our children to play. It`s a joy to see them sharing their love with friends and the staff. It is now deserted and we miss the fun and smiles of the children. Although our children are not at the day-care centre, we, the staff, are still present and care for them externally. We keep in touch by delivering them food and by giving them tasks to do at home. We are aware that we cannot solve the entire problems of the families, but our humble help is able to bring a smile to their faces and give hope to the people. The pandemic has affected the whole world. But in countries like Nepal where the majority of the people live in poverty the situation is extremely critical. The fear of contacting the coronavirus is one aspect, but dying of hunger is another issue. Thanks to the generous donations of our sponsors, friends and well-wishers we were able to support a great number of families in need with much-appreciated food packages.Let us pray for better times for the world in 2021 and thereafter.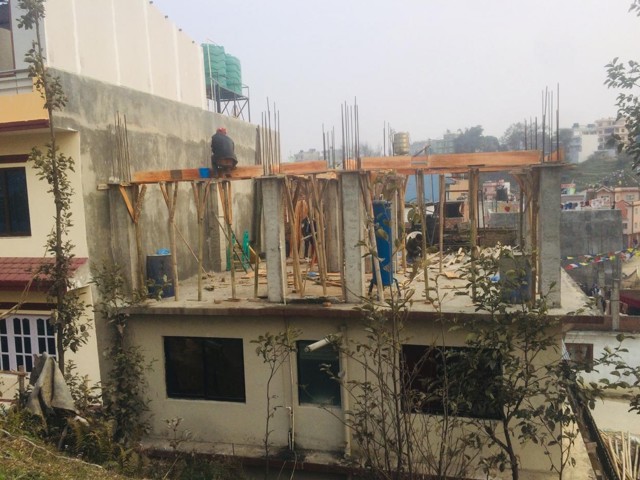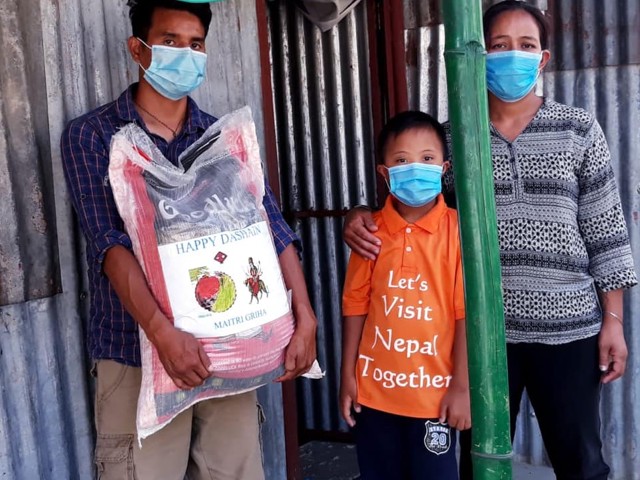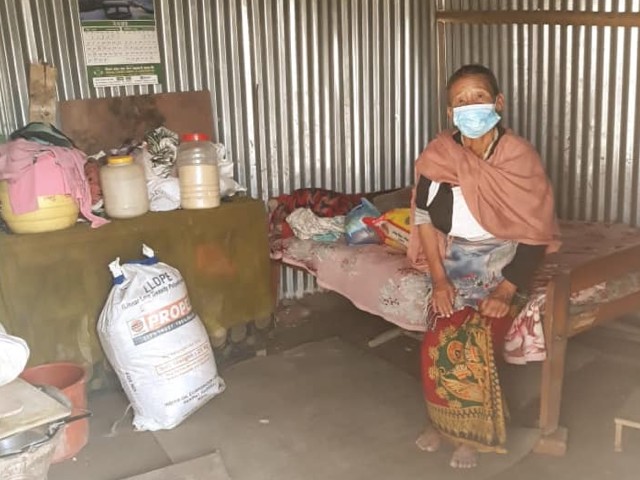 2019
As our day care center is far away from the public transport we are relying on having our own vehicle to provide a transportation service for the children. After many times of repairment of our old Van, we were very much in need of buying a new one. In 2019 we could do that with the help of different organizations. We would like to thank all of them for their great support in purchasing the New Van. Also in August the street next to Maitri Griha was paved. Before it was hard for the Van to enter our centre. We needed to balance the surfaces between the road and the entry gate. In co-operation with the municipality the road clearance and the road pavement work was initiated. Now we can bring the van and the children safely and easily to Maitri Griha. In June we set up a water Filter. The underground water at Maitri Griha contains excessive minerals and iron, which are harmful for the children. Now with this filter we can use our water safely. In 2019 the advanced class was focussing on reading, writing, numerical terms and vocational classes like pottery, making candle and learning to carryout household activities. In the beginners class the children learned to carry out basic daily activities like toileting, dressing and eating properly. Also we focussed on increasing their concentration skills.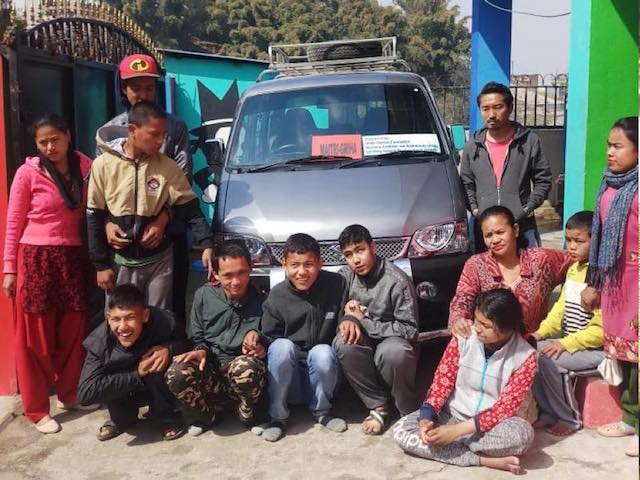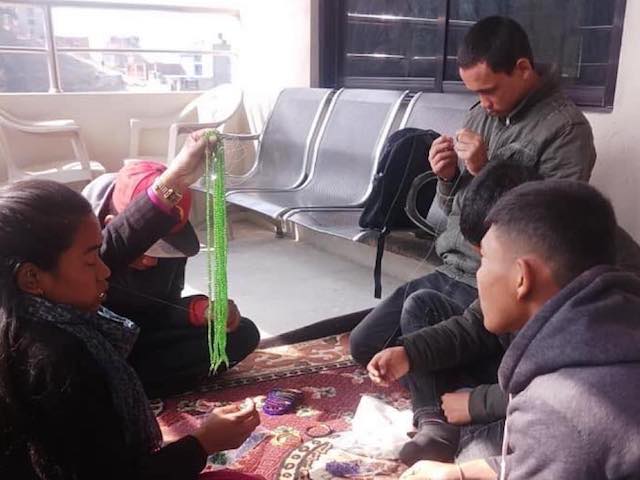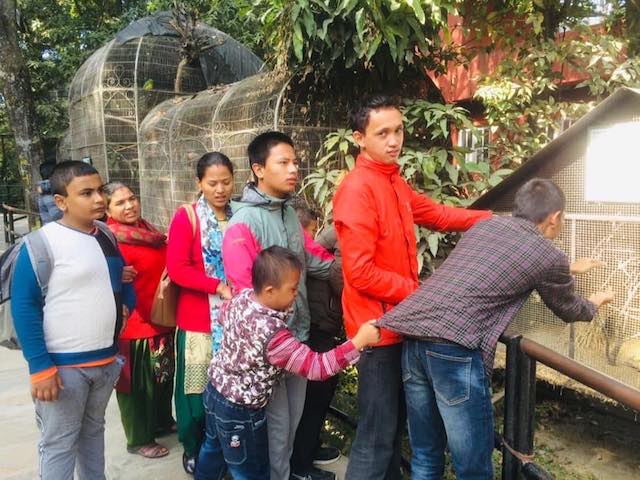 2018
It took almost seven months to complete the second floor of Maitri-Griha. Now there is a Physiotherapy room and an advanced class room as well as a vocational training room on the second floor. We thank every individual and organization who were directly or indirectly involved in completing this construction project. Everyone is pleased with this second-floor project. Especially the children are happy since they now got a bit more space to play and learn. In the future we are planing on using the top floor of Maitri-Griha as well, for we know, how hard it is to get free space in costly Kathmandu. Next tot he construction work normal live was going on at Maitri-Griha and kids were learning nicely. Next tot he study there was always time to celebrate together (e.g. Holi-festival) or do some outings (e.g. hiking at Pullahari Monastery). This are special highlights for the kids.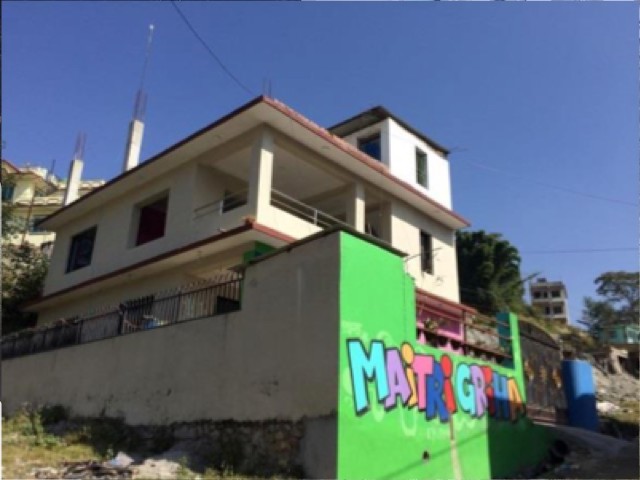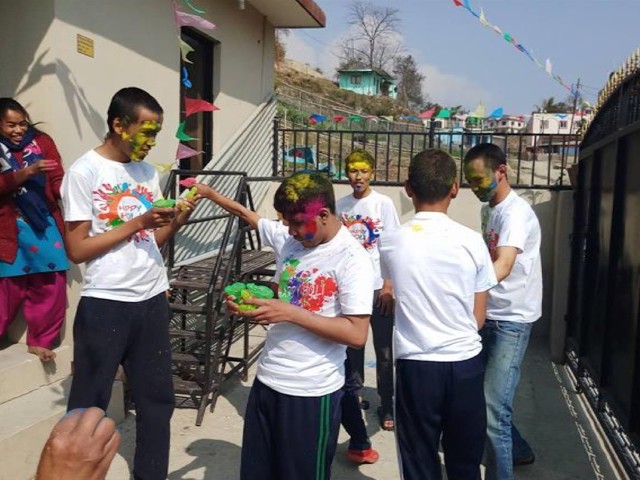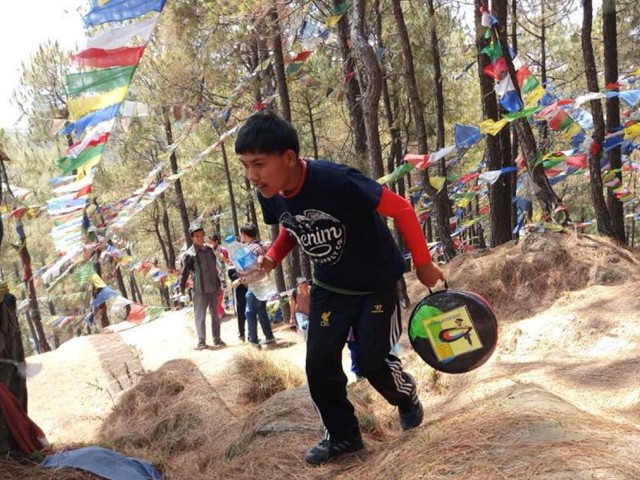 2017
After moving in to our new home in 2016, this year there was still a lot of construction work that needed to be done. A stable drinking water supply was one of the most important issues. We could manage it by fitting a new water pump. Also we could built a staircase fence and set up a proper Physiotherapy room. In March we conducted a Dental check-up Program for all the children and the staff along with some of the family members in cooperation with the Stichting Kinderen van Kathmandu (KVK) Netherlands. In November we conducted a motivational talk and sports integration program together with "Nepal Integrated Blind Development Association". Now that some of the children grow older we also started to set up a vocational class for them to increase their working skills. This is a new field for "Maitri Griha" to work in.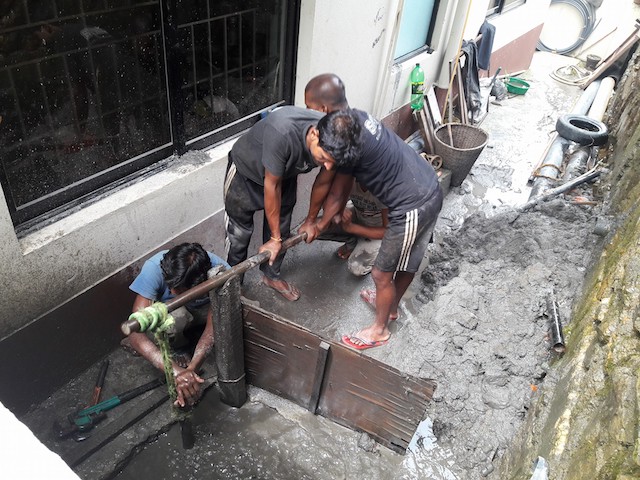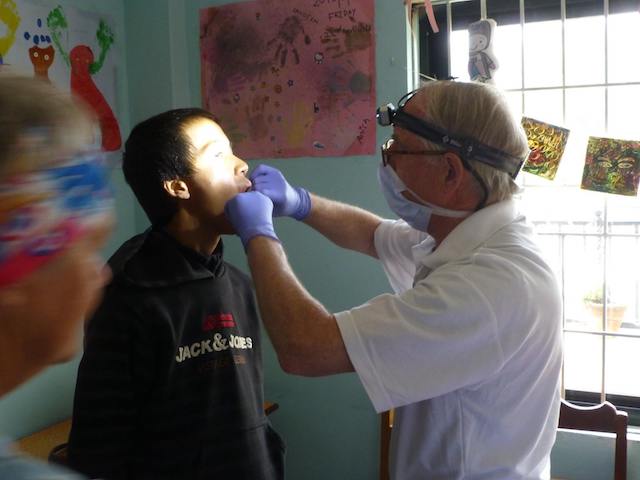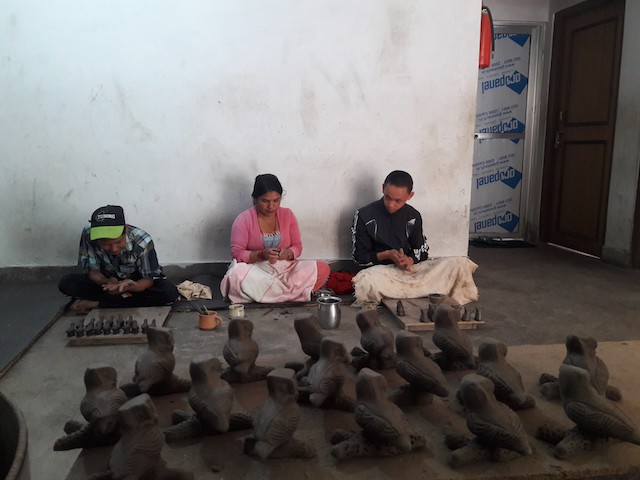 2016
In 2016 our dream became reality. After almost half a year of hard work and struggling we could finish our building construction at the end of the August 2016. In the first week of September the happy day came and we moved to our new "Maitri-Griha" home. With the help of all the staff and volunteers it took us 3 days to complete everything and welcome the children in the new building. A small puja by a monk from "Sechen Monastery" was conducted to make an opening ceremony for the "Maitri-Griha" home. The program was made very small as invitation was done only for the families of the children, members from the project and to some of the friends of "Maitri-Griha". Each and every individual of the "Maitri-Griha" family is very happy to be in a new and safe "Maitri-Griha" building. We built it strong, fulfilling the criteria of earthquake proof building under the strong supervision of the government. So the terible earthquake of 2015 finally turned in to a happy end for us and the children.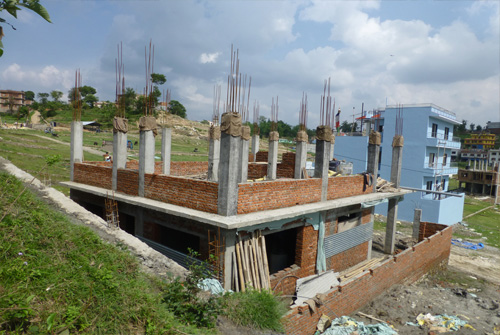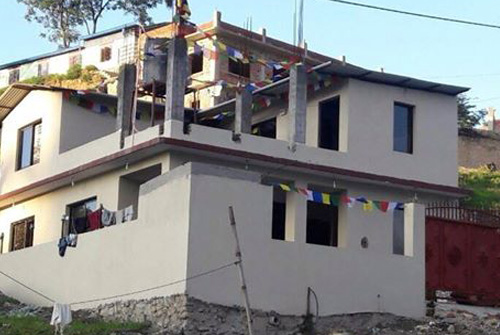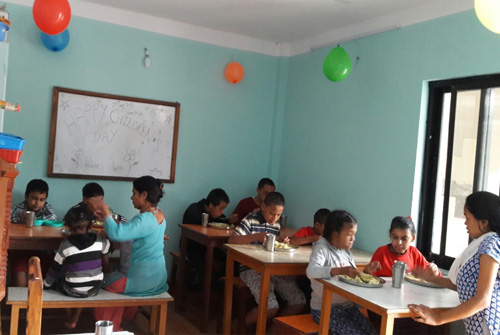 2015
In 2015 everything went fine until on the 25th of April the big earthquake hit Nepal and left the country destroyed and in fear. Many of the families from MG were victims of this devastating natural disaster, loosing their homes or relatives. Luckily none oft the children and staff got injured.
Thanks to the overwhelming immediate financial help of our friends abroad, we could start an emergency aid to the MG families and some badly hit villages nearby, by supplying medicine, food, mattresses and tents.
After the first shock we realized that our MG house, where we started our project in 2006, was severely damaged. It wasn't possible to run class inside the house anymore, so we builded a temporary shelter outside in the garden. With the beginning monsoon it wasn't always easy for us to continue the project, but for the kids it was very helpful to have their daily routine back after the earthquake.
Thanks to our Well-Wishers and Donors who supported us financially in this big tragedy, in September we were able to buy a little piece of land to build a new secure home for our children. In December we could take an engineer to this land to do the field survey for the building construction and make a drawing. As soon as we can save up money we will start building a new "Maitri-Griha", a safe and caring place for our children.
The situation in Nepal is still tense due to political turmoil and protest in the country. All the goods supplying channels are in a still stand condition and there is hardly any fuel and cooking gas available in the market. At the moment only the children who live nearby can visit our day-care centre, for we have no fuel to get the children from far distances by bus.
Even so this year was not pleasant and peaceful hope still remains within us. May 2016 bring peace, prosperity and happiness among all of us.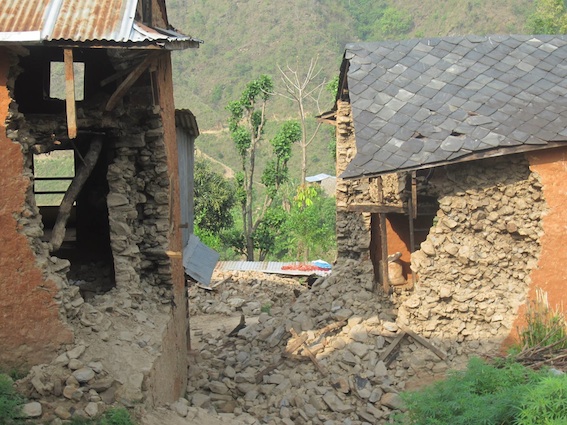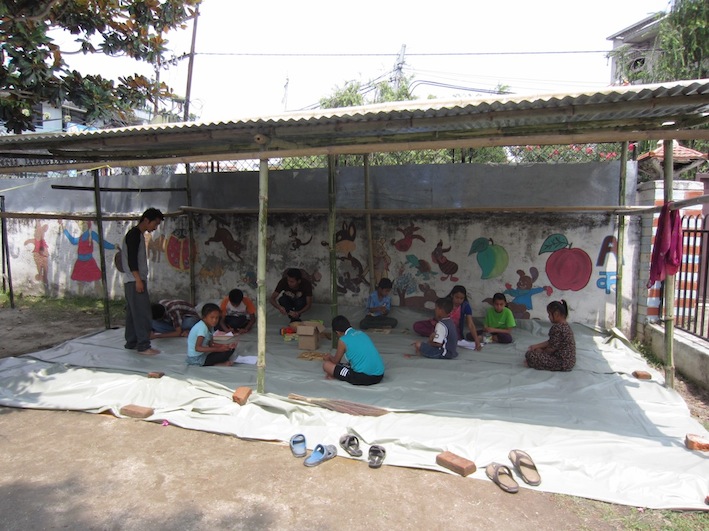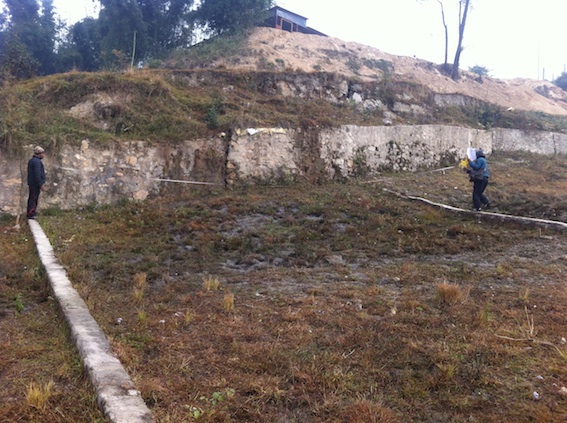 2014
On 6th of February a tuberculosis screening programm was conducted at "Maitri-Griha" to see if any of our children are having Tuberculosis. The screening was done with "Mantoux TB skin test" and the result came negative to all the children.The parents of the children were invited to attend the program and most of them attended which made it easy for health workers to take the history of the children for a smooth diagnosis.
A roof top maintenance was done on 26th of May where the old roof was completly replaced by a new tin sheet. The old one was rusted and had holes every where so it was difficult to have classes during the rainy time. Now there is no more dripping of water in the physiotherapy and in the advanced class room. The Children can take their class and do exercise happily even when there is heavy rain.
This year five children joined Maitri-Griha Anil,Roshan,Anusha,Phoolmaya and Minkumar.All the chidlren are from near by places like Boudha and Jorpati. Also ,this year two of the children left Maitri-Griha. Angmu and Sanita visited Maitri-Griha for almost three and half years.
For the children from the advanced class we focused more on house hold works like cooking, cleaning, dishwashing, washing clothes and candle making. They showed a good progress in doing this household work.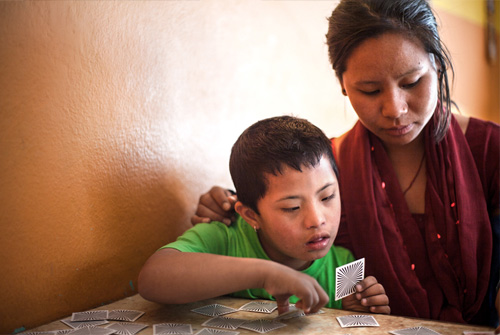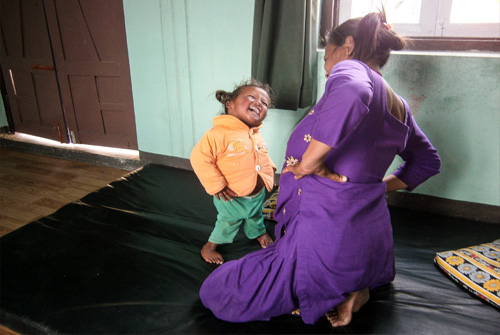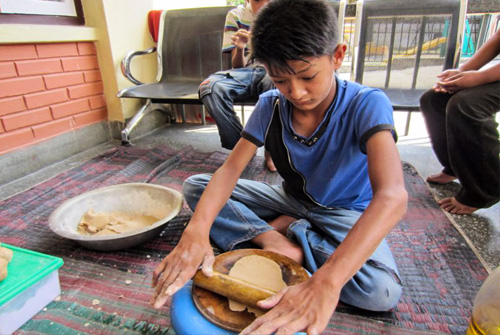 2013
On the 19th of April Gita Lama our Physiotherapist for a three months training at the "Institute of National Psychology". It was a very useful training which taught about the psychological barriers in learning and developing skills and showed alternatives ways and ideas for a better and smooth learning. On the 3rd of May the children were taken for a Dental Checkup Program organized by the Mangal Dip School. It was our great pleasure to let the children attend the program which helps maintaining the oral hygiene. On the 24th of October "Maitri-Griha" conducted a general health check up program under the volunteer support of a Dutch Doctor. All the children benefitted from it and good health was maintained.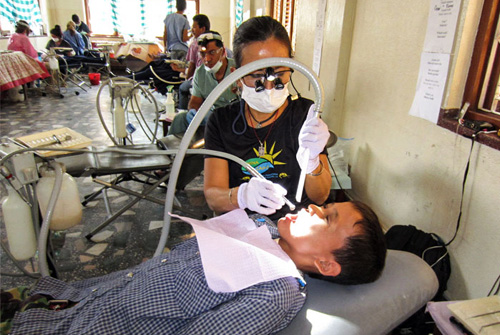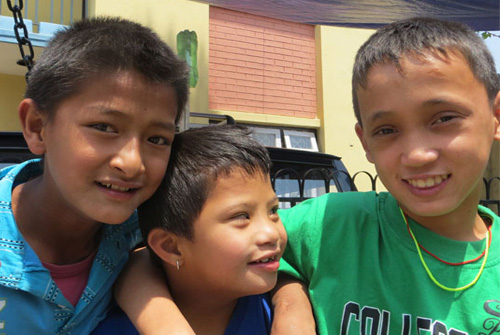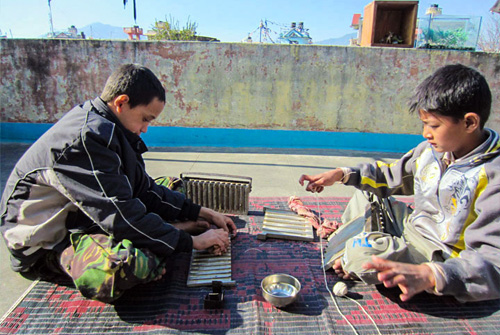 2012
On April the 25th a new well was constructed to improve the shortage of water at "Maitri Griha". The old well was not collecting enough water and shortage of water brings many hygienic problems.
On 27th of August Dhawa, the teacher, went for a one week training at ECEC (Early childhood education center). And Phurlamu, the other teacher, went there for a three days course. Both of them were happy to attend the training. They got a lot of new ideas regarding different activities, like games, music class and classroom decoration. Also they learned different teaching methods.
On the 30th of April all the children attended the vaccination program at the orthopedic hospital. And on the 28th of November our children attended a Dental health checkup program at Bhaktapur conducted by Suvadra foundation.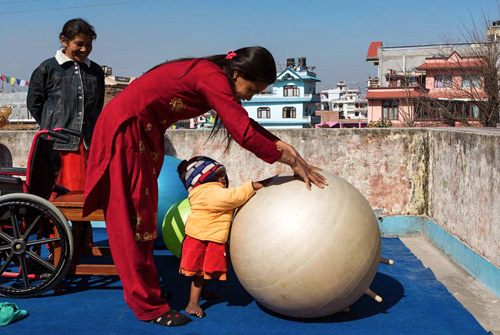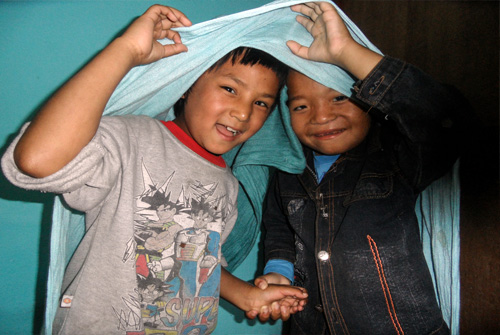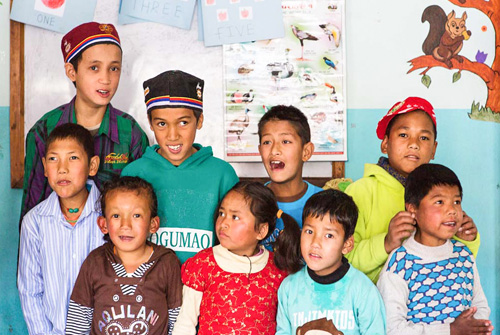 2011
From the first of February we totally converted our Resident home in a Daycare center. We came up with the Daycare program to make the parents more involved and active. It's important that they share the responsibility for their children. Also we could increase the number of children, who can benefit from our support and could start admitting girls as well. These days' ten children come to Maitri Griha for the Daycare. Some come by foot; others get picked up by car. By 9.30 the class can begin and the children get lectures, physiotherapy and a warm meal at lunchtime. At 4 p.m. the day ends and the children go back home.
The home visiting program it is going well. Most of the children that got a home visit from Geeta, our physiotherapist, are now admitted in the Daycare. Still there are five children who get their physiotherapy at home twice a week.
On the 23rd of September we attended a program of the Rotary Club of Kathmandu midtown in which a van was handed to our project Maitri-Griha to make an efficient Daycare program. It was pleasure for all of us to attend this program and interact regarding the project activities.
We are very much thankful for all the National and International Rotary members and people who are directly or indirectly involved and gave lots of effort to make our proposal succeed. We will do our best to make the best out of this donation and will try to extend our helping hands to more areas where our help is needed.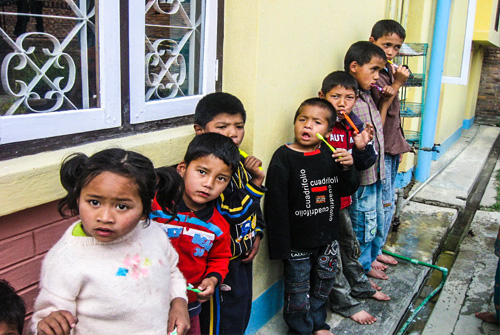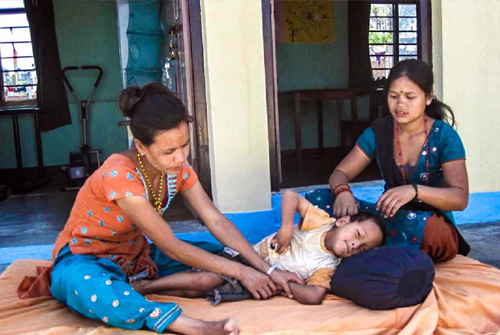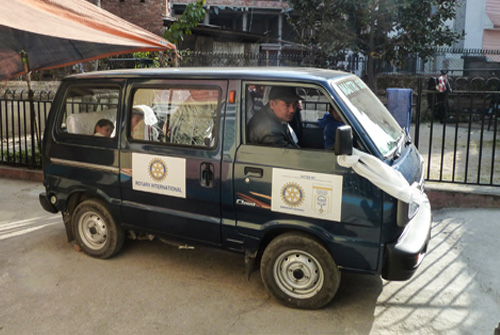 2010
In 2010 we extended our home visiting programme to nine children who are receiving physiotherapy from Geeta three times a week in their homes. In co operation with "Gharsita Mutu" a candle making program was implemented for the boys in Maitri Griha. After our staff were trained in candle making, they taught the boys how to make candles. This year we sent two children back to their homes. One of the boys, Ram, is working now as a Thanka painter and earning his own money. We welcomed three new boys to our Maitri Griha. One of the boys is coming for day programs so there are still seven residents living in Maitri Griha at the moment.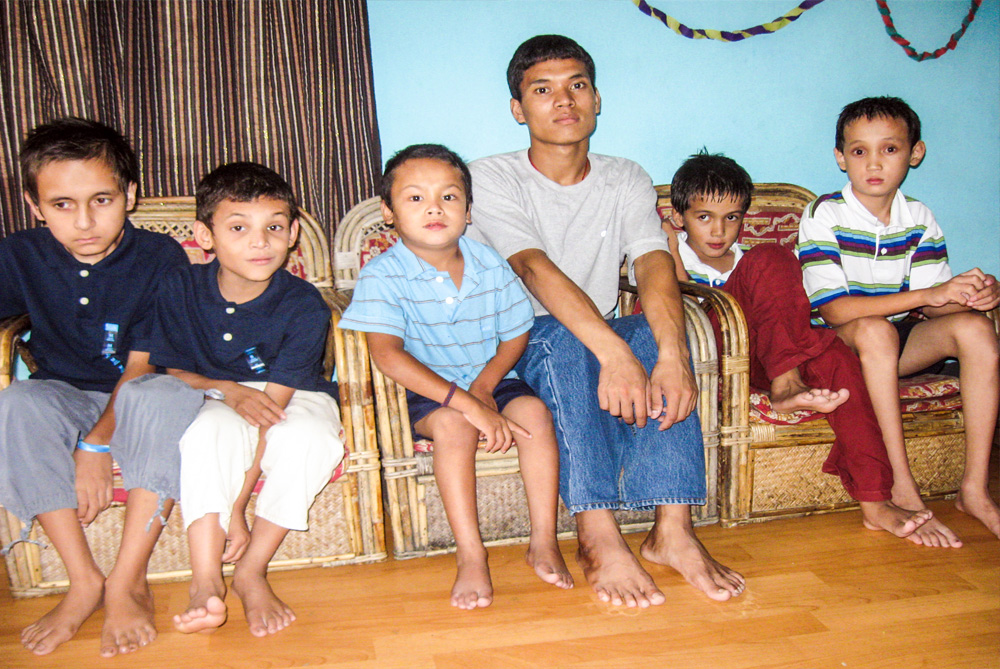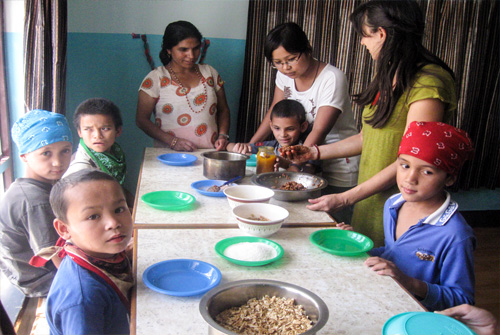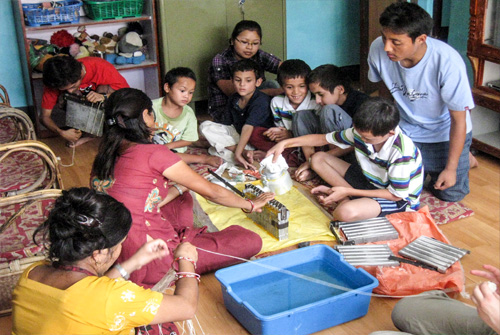 2009
In 2009 we were very happy that Geeta, one of our caretakers, enrolled in the physiotherapy program at the CP-school in Dhapakhel. After a 6 month program she offered physiotherapy to the boys at Maitri Griha and started a home visitation programme. Now we also have the ability to help girls in need at their homes thanks to Geeta. This year we welcomed one new boy. We sent one of the original Maitri Griha residents, Hari, to another children's home called "Swarga". This new home can offer him more opportunities for further development. All the children at Swarga join in regular school programs.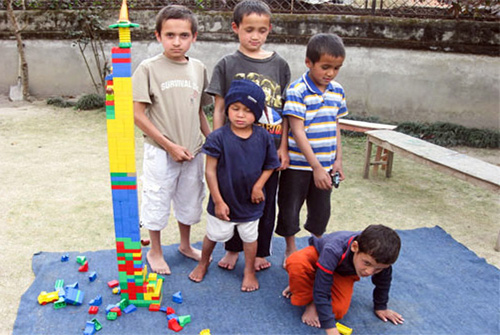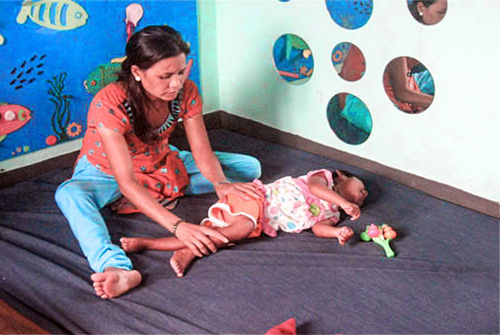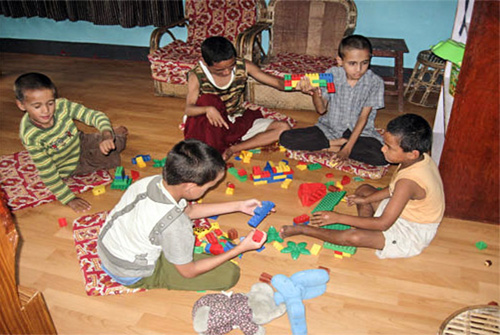 2008
Since April 2008 we've had a classroom and a physiotherapy treatment room on the upper floor of our building. In addition to the two full-time caretakers there is also a teacher coming for three hours in the afternoon. She is teaching classes to the children to help them develop their intellectual abilities. Each child has some duties and daily household chores. This helps their physical development. The physically handicapped boys are receiving daily physiotherapy from one of the caretakers.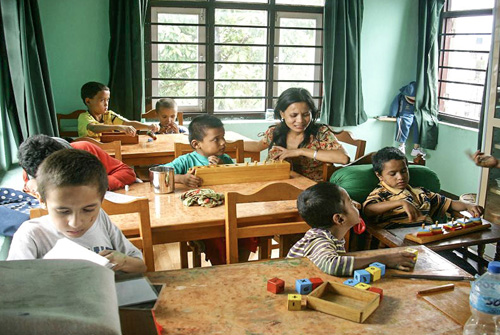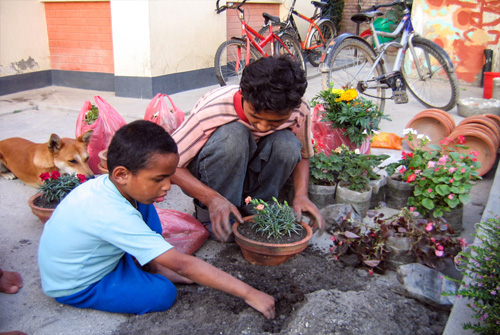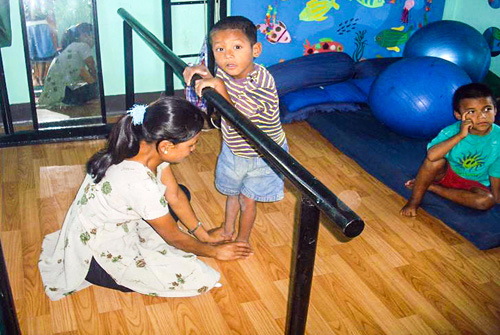 2007
In 2007 the set-up of the little home was completed. Since then we have focused on helping the children develop skills so that they can be reintegrated into their families. This year three boys could leave "Maitri Griha" and return to their families. Given that he grew up mainly on the streets, we are especially pleased with the progress made by Dhirga. He is now living at home with his family. Three new boys have joined us at Maitri Griha. At the moment there are seven boys living in "Maitri Griha" and one boy, coming for the day care.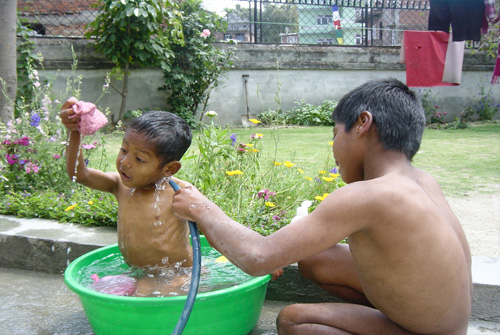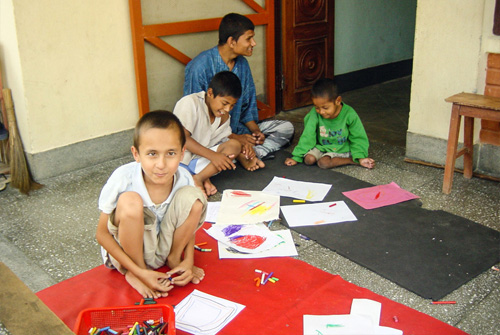 2006
In May 2006 we started our project "Maitri Griha" by renting a house and counselling families struggling to raise mentally handicapped children. Once the centre was established, people contacted us to inform us about mentally handicapped children living under challenging conditions in their areas. We took these children into our home, providing them with food, shelter and care. This provision was more than most of these children had ever received. In the beginning we had to improvise: we had no beds, furniture, or even enough clothing for all of the children. But we made sure there was always sufficient food and a warm family-like atmosphere where the boys could relax and begin to enjoy childhood free of stigma. During those first few months we set up the project and renovated the first floor flat in order to rent it to tourists to generate income for the centre.